To get more done by doing less, make your decisions in three areas:
What should we do?
When should we do it?
Should we continue?
How are you going to decide in order to maximize/improve business value in an effort to create a sustainable competitive advantage? To make those decisions, thoroughly understanding the value to be delivered by projects and processes. Use the work of Kent McDonald to develop a value model or models, evaluated when the inputs change such as driving market forces.

Building Value Models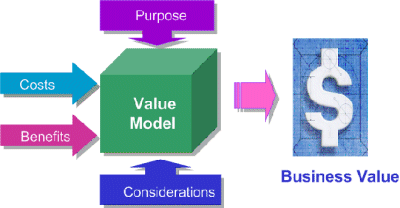 The most effective way to make business decisions is by using a value model. Value models incorporate not only the costs incurred and benefits realized by the project, but also the purpose of the project and considerations that could impact the value delivered by the project over time.

Real Options
We manage risk by controlling the time at which commitments are made, which should be as late as possible. Managing the uncertainty that this creates within people is done by explicitly stating the conditions that need to met before a commitment is made. Early commitments should only made for a well understood reason.

The Real Options Model
Options have value.
Optire expire.
Never commit unless you know why.

Real Options are a synthesis of Investment Banking Risk Management techniques.

Put this tool to work.
Kent writes regularly for ProjectConnections.com. Read his articles and find out where he is presenting next. To have Kent or an Accelinnova member present this tool in your company, contact us at +1 . 612 . 605 . 2370 or via email at contact@accelinnova.com.