Manage risk? Focus on each project's complexity and uncertainty.

Todd Little's model assist you to balance portfolios and use the optimal processes to deliver the right product right. Using Little's Project and Protfolio Goverance Model you identify the risks you may encounter and tools to lead projects with different complexities.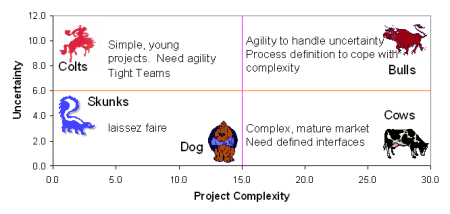 Step 1: Assessment
Uncertainty Drivers: The uncertainty of a project is dependent upon market conditions and upon the project constraints. Attributes to consider include market uncertainty, technical uncertainty, project duration and scope inflexibility.

Complexity Drivers: The complexity of a project is a characteristic of the project structure. Some attributes to consider include team size, mission criticality, team location, team maturity, domain knowledge gaps and dependencies.

Step 2: Analysis
Uncertainty
Complexity
Opportunities to reduce Uncertainty:

Use proven technologies
Reduce project duration

Opportunities to reduce Complexity:

Collocate the team
Break project into sub-projects
Project boundaries should be setup to have Loose Coupling and Strong Cohesion.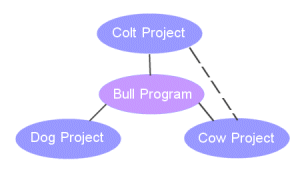 Step 3: Project Governance
Project
Project
Manager
Practices
Dog
Novice/None
Just the core practices
Colt
Development lead
Short iterations with continuous feedback
Cow
Seasoned Project Manager
Structured project plans with appropriate documentation
Bull
Mentor
Iterations and feedback to deal with uncertainties and appropriate structure to deal with the complexity

Put this tool to work.
Read Todd's articles and find out where he next speaks. To have Todd or an Accelinnova member present this tool in your company, contact us at +1 . 612 . 605 . 2370 or via email at contact@accelinnova.com.